Why build a website with us on Squarespace?
Squarespace is a design-driven, user-friendly and performance-focused website builder. This page shows some examples of our work and details the main points of consideration before engaging us to build your website on Squarespace.
Beautiful, award-winning templates will present your ideas clearly and give your website, portfolio, or online store an edge.
Do it yourself
Squarespace was designed with the do-it-yourself user in mind, making it notably easy to maintain and update your websites on your own, long after the project has been successfully completed. If you've used a computer in the past twenty years you'll feel right at home.
Responsive design
Mobile traffic now accounts
for more than half of all website traffic. With that in mind, it's critical that websites perform across any device and screen size. Every Squarespace template includes a unique mobile experience that matches the overall style of the website, so content will look great on every device, every time.
Beautiful design
Squarespace templates are beautifully and thoughtfully designed by a wide collective of professionally practicing designers and incorporate cutting edge UI/UX best practices, which means your website will have the best of the best in "form and function" baked right in.
Peace of mind
Squarespace is a self-contained platform that works seamlessly and is fully managed from top to bottom. This means there's never any need to update software, plugins, or widgets; patch security vulnerabilities; or worry that changing one component might break something else. External plugins will easily integrate to the Squarespace platform too.
Built-in SEO
Every Squarespace website is equipped with all the elements needed for a strong SEO strategy. Site descriptions, page titles, custom URLs, search friendly formatting, and other key elements are all easily managed. Furthermore, there is an automatically generated built-in sitemap that helps Google to crawl, understand, and ultimately, rank your website. However, relevant content and activity still remain key.
Years in the making
Squarespace launched in 2003 and has grown steadily since, gaining over a million customers over the years. It's a well-funded and well-regarded company.
24/7 Support
Because we understand your business, Autumn can always be your first port of call during business hours. However the Customer Care team at Squarespace is available seven days a week, 24-hours a day, and has won several awards for outstanding customer support.
Room to grow
Squarespace scales. Squarespace was designed for everyone from bloggers to musicians to online retailers, meaning it is robust and flexible enough to grow with your business.
Autumn will elevate your web presence from good to great by providing the type of strategic and design thinking that only comes from our unique experience.
Expertise
Our unique design thinking and branding perspectives paired with our on-the-ground Squarespace knowledge, puts us in a position to create a website that not only looks beautiful, but meets all your strategic needs as well.
Experience
What may seem daunting to you is our day-to-day. We are very familiar with the quirks, restrictions, and best practices of building websites on both Squarespace and custom platforms.
Efficiency
One of the major benefits to working with us is the time you will save thanks to our experience with Squarespace and knowledge of website best practices.
Execution
Building a website can be overwhelming and is much easier if there is a well-honed process in place. We can walkyou through our process, start to finish, to give you a preview of what it'll be like to work with us, and the clarity what we can bring to your vision.
What our Squarespace clients have to say....
"Autumn Studio team nailed my vision and introduced me to the ideal platform, Squarespace. It was a design dream come true, clean, professional and more than I could've ever imagined."
Lia Halsall
www.liahalsall.com
"We were able to share a few, half-formed ideas with the team, and they took these concepts and created for us a website that communicates our vision and sells our business to prospective clients. We are regularly given feedback on how much people love our site, and that it's one of the key factors in them deciding to work with us, which, for us, is a considerable return on investment."
Claire Deane
www.deaneand.co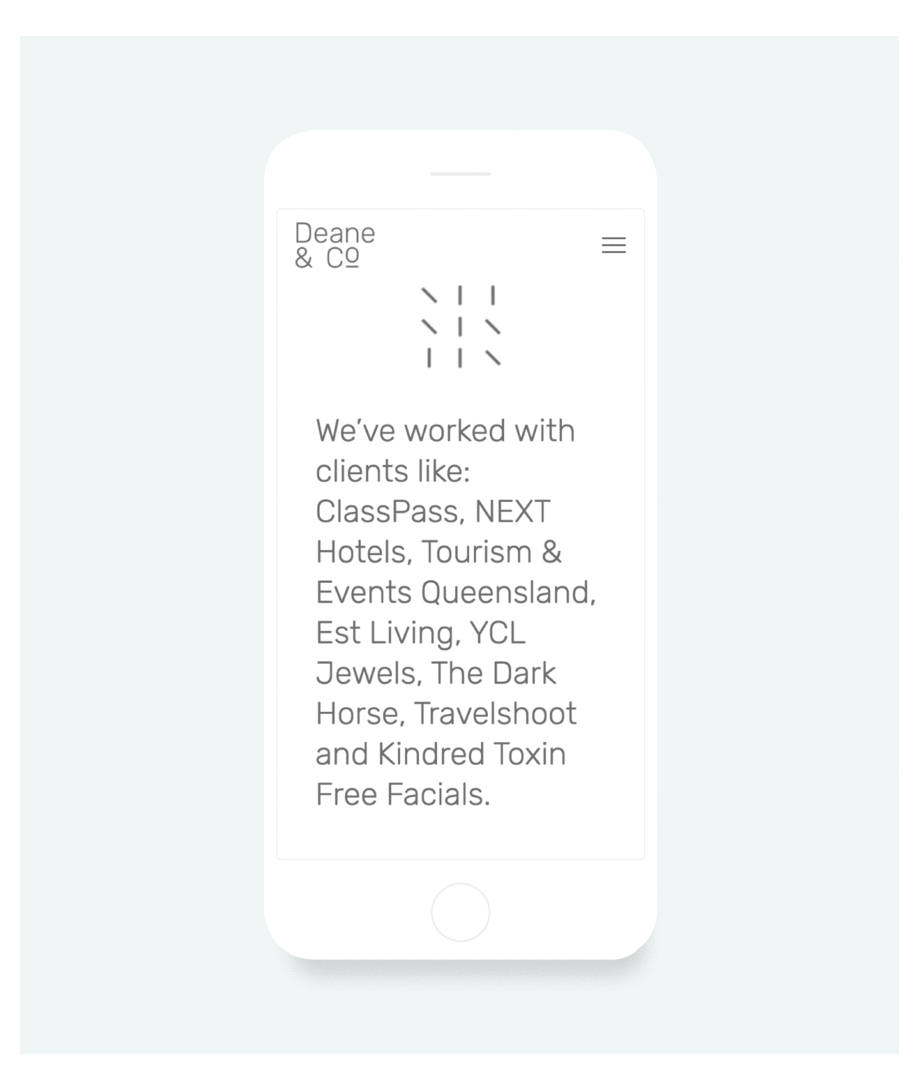 Frequently Asked Questions
I don't want anything fancy.
Presentation matters and will continue to matter in the online space. A modern website needs to have a simple, beautiful interface that is easy to use and gorgeous to look at, whether you're a yoga instructor, an attorney, or a food photographer.
What's the cost?
Our services are an investment in your business. The type of well executed website we can help you create will provide a value that's far greater than the upfront payment you'll need to make. A variety of package options can be foundat the end of this document.
Can't I just have a Facebook page?
Facebook is important and can drive traffic and sales, but it's not a substitute for a website. Facebook is akin to having a booth at a farmer's market — lots of foot traffic but the creative freedom is limited, the signal-to-noise ratio is low, and, at the end of the day, the visitors belong to the market itself.
I may not have the right content.
Having the right branding, imagery, and copy are prerequisites to creating a great website. If you're coming to Autumn with an established brand we can walk you through the process and guide you on what is exactly required. Otherwise speak to us more about designing a new or workshopping a current brand.
Can I preserve my SEO?
If you already have a strong search ranking for key pages or blog posts that you'd like to preserve, switching platforms may cause a temporary dip in established search ranking, but with Squarespace that dip can be significantly reduced. First, importing blog content, which is often a major contributor to SEO rankings, is a one-step process. Second, it's easy to customize URLs so inbound links will continue to work. Third, redirects of pages that do not get migrated over are simple to implement and will preserve the SEO value of those pages.
What if I want to leave Squarespace?
If for some reason you would like to move your website to another platform down the line, Squarespace lets you export content quickly and easily from within your account settings.
I don't want a template website.
While it is true that Squarespace has a tightly curated library of templates to work with, the templates are there to act as a jumping-off point. We will create you a website that is distinctly and beautifully branded, but maintains a familiar user experience.
Do I need an app?
The vast majority of app functionality you're likely to need can be built within a website, which will be accessed far more regularly than an app. It's also worth noting that statistically, most people use only five apps, with Facebook taking the lion's share of that screen time. Having a mobile friendly website that loads quickly and beautifully from a smartphone browser will meet your immediate needs and save visitors the irritating step of stopping to download a new app.
What about other platforms?
There are many fair and thoughtful discussions on the merits of other platforms. Here are a few of the best comparisons, in our opinion:
Aren't there free options?.
Things are rarely as free as they first appear. Once you add in costs for hosting, domains, themes, apps, plugins, custom domains, and removing third-party ads, you're looking at a price significantly higher than "free." An advantage to using Squarespace is the ability to package domains, hosting, customer support, and continued improvements into a single monthly or annual payment. When you start a new trial, you are entitled to a 30 day free trial period.
Is there anything Squarespace doesn't do?
While Squarespace is robust and powerful, there are times that it isn't the best fit for some specific needs. Squarespace isn't currently built to support:
PayPal integration
Recurring payments
Member logins
Anything that necessitates integrating with any third-party API
Can I track metrics?
It's easy to add Google Analytics tracking to your Squarespace website. Also the Squarespace Metrics App lets you use any mobile device to access page views, visitor statistics, and track social media.